Where the heck did January go? I swear we were only just celebrating the new year. I had a crazy reading month this month, mostly due to the ridiculous amount of free time I have right now (still on university holidays), and the fact that the Australian summer usually leaves me melting and too warm to do anything physical. As such, I read a total of 8 books and 1 graphic novel. So here is what I read:
Novels:
The first book I read is one I started at the end of 2016, and then devoured 3/4 of it on New Year's Day because I COULD NOT PUT IT DOWN. Illuminae by Amie Kaufman and Jay Kristoff is a book I've been dying to read for a long time and I finally got around to it. I honestly don't understand why I didn't read it sooner, it was incredible! This is an epistolary (told through documents) science fiction that had me hooked. Honestly, it's not the most original story, it reminded me of several other movies/books, but the fact that it is told through interviews, official documents, journal entries, etc offered an intriguing and exciting new way to experience some classic, and highly popular tropes. The beginning started out slightly confusing, and I had to seriously pay attention to what I was reading, but it didn't take too long for me to get into the rhythm and style of the book. I loved the characters, I loved the story, I loved the book!
I read Illuminae's sequel, Gemina, toward the end of the month. I didn't enjoy this one nearly as much as Illuminae, though I still had a lot of fun reading it. I can't go into too much detail of the plot as it follows on from the first one. I enjoyed the story, though it was simplistic until the end (which was confusing). I did feel as though it didn't need to be as long as it was and I do feel like there were several additions that felt like fillers and didn't add to the overall story. In saying that, I'm still looking forward to reading book 3 when it comes out.
One of my reading goals for the year is to read more contemporary fiction, and I'm so glad I decided to start with Fangirl by Rainbow Rowell. I devoured this book and read it in two sittings. It was so easy to relate to! The story follows Cath, a fan-fiction writing, identical twin, in her first year at college. She struggles with her writing, first love, social anxiety, and having to function on her own without her twin sister Wren, who has decided the two sisters need more independence from each other. While I found the story to be somewhat predictable, it was super fun, full of feels, hilarious, and tackled some seriously interesting topics including mental health, family values, and plagiarism when it comes to fan-fiction. I enjoyed it a lot more than I thought I would and it still makes me happy to think about.
Next is a book I had high hopes for after hearing a lot of good things, but just didn't end up being my cup of tea. I have a lot of mixed feelings about The Diabolic by S. J. Kincaid. This is a YA Science Fiction that follows Nemesis who is a diabolic: genetically modified people created to be used as guards and protectors. Nemesis protects Donia, a galactic Senator's daughter. After Donia is summoned to the rather hostile court, Nemesis takes her place in order to protect her. I found the world in this books to be fascinating, it combined science and religion in a way I had not seen before, practically switching the two around. The issue I had was the plot itself. It was all over the place for me and was ridiculously predictable and full of tropes. I didn't feel hugely connected to any of the characters, and the romance felt forced and unnatural to me. I enjoyed the court intrigue and the manipulation and scheming, I just wish there had been more depth to the story over all and a little less filler. I do, however, feel like this is a book a lot of people would like. It just wasn't for me.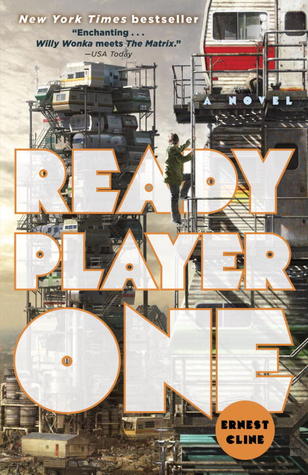 I was very much in a sci fi mood this month, so I finally got around to reading Ready Player One by Ernest Cline, which I LOVED! It went straight to my favourites shelf. This is a dystopian novel where everyone escaped their horrible lives by logging into the Oasis, a virtual utopia. Hidden somewhere within this virtual world lies an "Easter egg" left by the game's late creator, and 80s pop-culture enthusiast, James Halliday. The person who finds the egg will inherit his fortune. We follow Wade, one of many egg hunters, as he uses 80s movies, games, and pop-culture references to solve the riddle left by the creator. This book was so much fun to read, especially seeing as how I adore 80s movies, and am an avid gamer myself. The pacing is incredible, full of action, but also nicely balanced. The characters are easy to connect with and had me laughing out loud. The references are well placed and nicely explained, so anyone can understand what's going on, even if they're not familiar with the particular game or movie discussed. All around it was an awesome read, and I cannot wait for the movie adaptation.
Next I read A Monster Calls by Patrick Ness, another great book that is about to come out as a movie. I wanted to see what all the fuss was about this book. It's about a young boy whose mother is suffering from cancer. He starts being visited by a monster who tells him stories, and it's somewhat unclear whether the monster is real or in his head. This story is bleak, sad, but so beautiful. It's also a fairly quick read, but make sure you have tissues ready! I read the illustrated edition and am glad I did so as the pictures were stunning and perfectly accompanied the story. I don't think I'll see the movie when it comes out because I know I will cry.
The final two books I got to this month were The Bad Beginning, and The Reptile Room, the first and second book in A Series of Unfortunate Events by Lemony Snicket. I have never read this series before! I enjoyed the humour in these books, it was dark and fairly nasty for a kids' book. I laughed at certain things, then realised that I probably shouldn't have been laughing. I'm looking forward to continuing with the story when I get around to picking up book 3.
Graphic Novel:
The graphic novel I read this month was The Secret Loves of Geek Girls, edited by Hope Nicholson. This is a creative non-fiction anthology featuring essays, comics, memoirs etc on the subject of the lives and loves of "geeky" women. It was an interesting read as it consisted of both prose and visual graphics. I thoroughly enjoyed the majority of the stories as they discussed geek culture, fandoms, love and sexuality, and all sorts of other relatable topics. I connected with some stories more than others, but I definitely enjoyed the majority of the anthology and am glad I read it.
Viola! Those are the books I read in January. February is going to be an interesting month as I'm going on a cruise for two weeks yay! I won't have any internet, but I'm hoping to have some posts pre-written and scheduled, and I will respond to comments etc when I get back at the end of the month. I'm bringing along my kindle and a few other books, but to be honest I'm not too sure how much time I'll be dedicating to reading. Mind you, there's a piano bar and I can absolutely picture myself lounging in a chair, reading, listening to the jazz piano whilst sipping on an espresso martini. Classy.
Save
Save
Save
Save
Save
Save
Save
Save
Save
Save