First of all, happy new year everyone! Hope everyone had a wicked night!I meant to have this post up yesterday, but completely forgot about it oops! Ah well, here goes:
In 2016 I read a total of 72 books. This is a relatively small number compared to a lot of people, but hey, I'm happy with it! I had quite the reading slump at the beginning of the year and mostly only read the books required for my studies. The majority of my reading was done in the second half of the year when I became much better at reading the books I needed to whilst still finding time for reading for enjoyment. So I thought I'd share with you both my favourite books I read in 2016, as well as the books I read that I didn't enjoy so much. Most of these books were not released this year, this is just the year I happened to read them! I'll start with the top 10 books I loved!
Novels:
I read The Rithmatist by Brandon Sanderson fairly early in the year and I knew straight away that it was going to be one of my favourites! I won't go into details as I have a full review here, but I loved the plot, the magic system, the characters, pretty much everything about it.
This next book, believe it or not, I had to read for university in a creative writing topic. We were studying horror and read Carrie by Stephen King. I really enjoyed this book, so much that I read it in one sitting! It's fast paced, somewhat creepy, very bloody, and incredibly twisted. This book spoils itself, tells you the framework for the ending (minus details), which then forces you to keep reading it to discover exactly how it all unfolds. You can read more of my thoughts on Carrie here in my Creepy Halloween Reads post.
Another book I had to read for university was Rebecca by Daphne Du Maurier, another book I fell in love with. This is a Gothic mystery that is as bleak as it is melancholy … my kind of book! I loved Du Maurier's writing style. The descriptions in this book are beautiful and vivid, and I found the protagonist to be fascinating. I grew incredibly attached to the unnamed protagonist and found myself crossing all of my fingers that she would do well. The story is dark and gloomy, and sucked me right in. I cannot wait to re-read it!
The next book is one I think a lot of people will recognise: A Court of Mist and Fury by Sarah J Maas. I'm so happy I enjoyed this book as I liked the first one, but didn't find it to be as mind blowing as other people did. It was action packed, super steamy, and had incredible character development. This book cleaned up the major issue I had with A Court of Thorns and Roses: Warning, spoiler alert! I hated the relationship between Tamlin and Feyra, it felt wrong and forced to me and I didn't understand it. So I was relieved to read this book which put it all back into perspective.
My favourites list would not be complete without an edition of Alice in Wonderland, of which I read several this year (as I do every year). My favourite edition I read this year was The Complete Alice and The Hunting of the Snark illustrated by Ralph Steadman. So the story is the original, but it is accompanied by beautiful and dark line drawings. I felt the illustrations captured the darker side to the story. Where most other editions I have depict the characters as cute and innocent, these illustrations showed them to be creepy, and sometimes, repulsive.
The next book I read was one that had been on my TBR for a while, and I finally got around to it! I loved Fahrenheit 451 by Ray Bradbury. I'm a big fan of the sci-fi/dystopia genre and this book certainly lived up to its expectations for me. I read it in only one or two sittings and was hooked. I found the protagonist to be compelling and interesting, and I enjoyed discovering the dystopian world of which he was a part. This book has a lot to say about censorship and the potential harm it can cause, as well as the dangers of our newfound reliance on technology. Though it was written in the 50s, a lot of what it had to say is still relevant now, especially when it comes to our use of technology. You can read more about my thoughts in my November Wrap Up.
Continuing with the dystopian theme, another book I loved this year was The Handmaid's Tale by Margaret Atwood. This was another book that had been on my TBR for a few years, and this was already on my shelf. I loved this book and it's another one that I read in two or three sitting. What I loved most about this book, apart from the original plot and setting, was the fact that the main protagonist wasn't trying to start a rebellion, or overthrow her society, she is simply trying to survive in this world and the reader is privileged to experience a snapshot of her life. This book is well written and I adored it. You can read more about my thoughts in my November Wrap Up.
The next book on my list is yet another that can be read in my November Wrap Up (sorry if that's getting repetitive). I read Alice by Christina Henry, which would definitely be in my top 5 if I had the heart to make one. This is a horror retelling of Alice in Wonderland and it sucked me in like a rabbit hole (I couldn't resist sorry). I loved the darkness and grit of this story and the fact that there aren't really any "good" characters, though there are certainly some "bad" ones. There were several moments where I had to put it down for half an hour and come back to it, just so I could process the horrors I was reading. It truly embraced darker elements, especially the popular idea of madness, and just went for it, which I felt worked beautifully.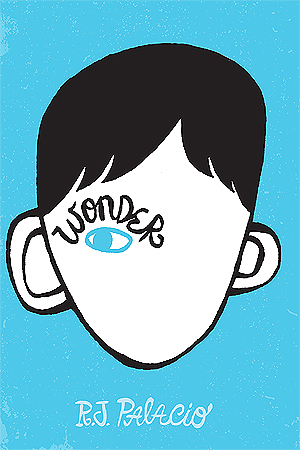 Completely different in tone to Alice, the next book I loved reading was Wonder by R.J. Palacio. Once again, you can read more here. This book had a lot of heart to it and was so believable. I grew attached to most of the characters and really appreciated how honest the interactions between them all felt. They all had flaws, and not all of them were overcome, but they kept trying to do their best by each other. Nothing felt forced (I often feel like the plot is forced in a lot of contemporary) and the dialogue flowed naturally. Plus I loved all of the Star Wars references in it, as well as the Dungeons & Dragons mentions.
I finally got around to reading Little Women by Louisa May Alcott after adding it to my TBR years ago! This is a great book, is super easy to read, has wonderful characters, and will probably become one of my go-to comfort reads. I loved all of the characters in this book and enjoyed their growth. I admittedly shed a few tears as well. I want to get my hands on the sequels, though I've heard they're not as good. I have more thoughts on it here
So those are my favourite reads of the year. Now for fun I'll share with you the 7 least favourite books I read, and the only graphic novel I didn't enjoy. It's interesting, most of the books I didn't enjoy were books I had to read for university.
Novels:
Okay the first book I didn't like was one I had to read for university as part of a creative writing course that explored genre. We had to read Kiss an Angel by Susan Elizabeth Phillips as part of the romance genre. This book was very easy to read, but I didn't enjoy it very much. I'm not the biggest fan of romance, but I have been known to enjoy the odd one here and there (you can read an awesome review my friend Riley wrote here on one we both enjoyed). This book though had lots of plot holes, was too melodramatic for my tastes, and largely predictable. I think I'm just picky when it comes to romance novels, and this one wasn't it.
The next book was also for a university course and was not an enjoyable read for me. Heart of Darkness by Joseph Conrad is a classic which gives e mixed feelings. I like the concept of the book and love the metaphor of the river representing the journey into madness, but the execution didn't work for me. I didn't like the superfluous language, the fact that it would takes pages and pages between anything happening, and the fact that when things did happen, they were skipped over quickly. This one wasn't for me.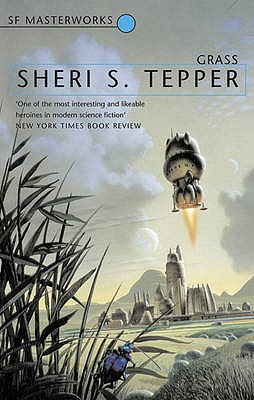 Next was also a book for university (I did say earlier that the first half of the year was mostly books for study :P) and was part of the same course as Kiss an Angel. For our science fiction novel we read Grass by Sheri S. Tepper. This book has really high ratings on Goodreads, but I didn't like it at all! There were so many plot holes and I didn't connect to any of the characters. I found the pacing to be all over the place. It would go from nothing happening for 100 pages, then all of a sudden everything would happen at once, only to go back to nothing. The descriptions, however, are beautiful, especially the opening paragraph.
Next up is Beyond the Shadows by Brent Weeks, and I'm still so sad about this one. I won't go into too much details as I talked about it in my Top 5 series that got worse post, but basically I loved the first two books in the series, but then this one felt rushed despite being 800 pages. The first half of this book was great, but then the pacing went all crazy, important events and character growth were skimmed over, and I got sad. I'm so sad.
The next one may be a little controversial, but here goes. I wasn't a fan of An Abundance of Katherines by John Green. Granted, I read this after reading The Fault in Our Stars, which I really enjoyed, but I found this book to be incredibly boring. The beginning was fun and amusing, but I got so sick of the main character by the end of it. He spent the entire book whining and I felt like he didn't really grow as a person. Not much happens in this book either. I dunno, it just didn't do much for me.
Next is yet another book I read for uni, and that was A Portrait of the Artist as a Young Man by James Joyce. I do not understand the fascination with James Joyce. I've read a few of his short stories as well, and they're just not my thing to be honest. I had an assignment on this book, which was not fun. This book is written in a style called "stream of consciousness," which I enjoy when done well (see Edgar Allen Poe's The Tell-Tale Heart), but find to be rather confusing when not done well. Portrait of the Artist is in the latter group for me. I appreciate the importance this novel had on writing back in the day, being one of the first to use stream of consciousness, but I think there are much better examples of the technique out there, and many more enjoyable classics as well.
The final novel I want to talk about is Wilt by Tom Sharpe. Again, I won't go into too much detail as I discussed it in my November Wrap-up. I enjoyed the first half of this book, it was slapstick comedy, but the pacing is what made it ultimately prevented it from being an enjoyable read for me. The characters are meant to be unlikable, which I found to be amusing at first, but tiring towards the end. The book was also about 100 pages too long and could have ended much sooner.
So there you go! Here's hoping everyone has a great new year!
Save
Save
Save
Save
Save
Save