December wasn't my best reading month. This isn't too surprising given how hectic December is! I was just too tired and stressed most of the time to really dive into many books, but the ones I did read were all great! I did, however, read a fair few graphic novels this month. In total, I read three novels, one novella, and six graphic novels. So here's what I read for December!
Novella: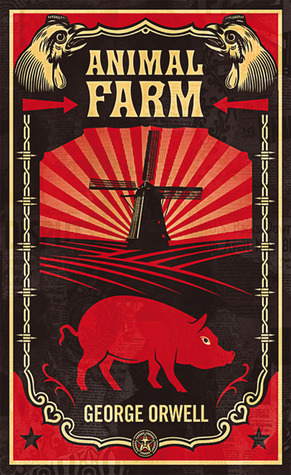 The novella I read this month was Animal Farm by George Orwell. This novella was featured in my Re-reads post, which led me to reading it! I'm so glad I re-read this novella as I got a lot more out of it this time around. It follows a group of farm animals who have overthrown their human masters and develop their own mode of society. It's a great satirical read which touches on the issues of dictatorship, the effectiveness of propaganda, and the importance of education.
Novels: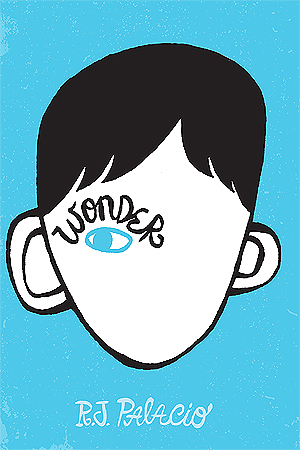 The first novel I read this month was Wonder by R. J Palacio. One of my reading goals is to read more of the contemporary genre, and I'm so glad I chose Wonder to get me started! It's an incredible book, outrageously honest, funny, and bittersweet. It follows August, a young boy who was born with a facial deformity as he spends his first year at school, after having been homeschooled all his life. The general tone and style of this book reminded me a lot of The Curious Incident of the Dog in the Nighttime. The story is told in short chapters (some paragraph length) and is interspersed with recollections of past events, and how that influences the characters now. It's a very well crafted, gorgeous book. Yes, I did cry.
The next book I read was Little Women by Louisa May Alcott. I've been meaning to read this book for a very long time, but never got around to it. I then saw this stunning edition at my bookstore and thought, "why not?" I adored this book and read it in two sittings (would have been one if I hadn't started it late at night)! I found the first few pages to be a little on the dragging side, but it wasn't long before I was hooked. It's so simple in its premise: it follows the various trials and triumphs of the four March sisters. It's such a charming read and I found myself relating to the struggles of each sister in some way or another, especially Beth who is incredibly shy and struggles to break out of her shell. It's a gorgeous reflection of the importance of family, friendship, and all of that lovey dovey gooey stuff. This is definitely a "feel good" read.
The final novel I read was a re-read of a childhood favourite. I read Dragon Rider by Cornelia Funke. I gave away my copy of this book years ago, and regretted it ever since, especially as the original cover is out of print (I think). I therefore couldn't say no when my favourite second hand bookstore was selling a cheap copy in pristine condition, pop-up map and all. It's a kid's story about a group of seclusive dragons whose home is about to be destroyed by humans. Firedrake, one of the dragons, goes on a quest with the help of his brownie friend (the creature, not the food), and a young boy to find a new home. This book is a great, fun read. It's well written, fast paced, and perfect for lovers of children's literature, fantasy, and adventure.
Graphic Novels
Okay the first graphic novel I read was a weird one: Sex Criminals Volume 1 by Matt Fraction (Writer), and Chip Zdarsky (Artist). Needless to say, this graphic novel is for mature audiences only! It's an interesting premise. The main character, Suzie, has an unusual gift, her orgasms cause time to stop. She thinks she's alone, until she meets Jon. Naturally, they decide to use their power for crime. I was thoroughly entertained by this novel, and I adored the surreal colours in the frames where time stops. I think this novel raised some really important issues (believe it or not), primarily the importance of talking about sex with our kids so they understand what is happening to their bodies, and can be safe. I loved the characters. I enjoyed the part of the plot where the characters reflect and talk about their childhoods, but I wasn't too huge on the main events of the plot, which I will not spoil. I enjoyed this novel, but I'm not bursting to get my hands on Volume 2.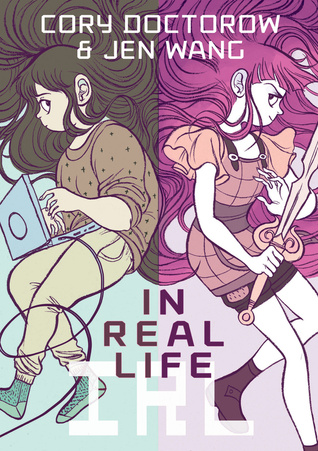 The next graphic novel I read is a stand-alone and is one I adored, and that is In Real Life by Cory Doctorow (author), and Jen Wang (Illustrations). This novel follows Anda, a teenage girl who loves playing an online game called Coarsegold Online. I won't go into too much detail about the plot as it's sort of hard to explain and I mentioned it in my haul video here. This is an easy novel to read and is perfect for newcomers who want to get into graphics. The illustrations are simplistic yet beautiful to look at, and the dialogue bubbles are easy to follow. The story is surprisingly deep, but it maintains a whimsical, light feel to it. The main character is super easy to relate to and is realistic. I didn't realise at first how attached I was to her and how much I wanted her to do well!  
Next is a graphic novel that I was tempted to include in my Intimidating Books post, but I knew I was going to read it soon anyway. Saga by Brian K. Vaughan (Writer), and Fiona Staples (Artist), is one of those series that is hyped up to no end. I'd been putting off reading it because I was worried I had ridiculous expectations for it. But oh my gosh I loooooooved it! I read both volumes 1 and 2 this month and I can see why so many people love it! It's a Romeo and Juliette esq style of stories. The two main characters come from a warring planet and moon, but they fell in love, had a baby together, and are now struggling to find their own place in the universe with the pressure of being new parents, and wanted fugatives. This incredible novel blends science fiction and fantasy in an epic story. It's raw, it's honest, it's hilarious. I just loved it and cannot praise it enough.  
The next novel is one I wouldn't have chosen for myself, but was bought by my partner, and that is Lady Mechanika Volume 1: Mystery of the Mechanical Corpse by Joe Benítez. I am crazy for the art in this book! And for Lady Mechanika herself. If I was into cosplay, I would be dressing up as her. She is awesome. This is a steampunk novel set in an alternate Victorian society and follows Lady Mechanika, a private investigator/adventurer who is part machine with no memory of her previous life. This novel is quite text-heavy retrospectively speaking, and may not be the best for new-comers to graphics. I often found myself re-reading frames because I'd read the speech bubbles out of order. In saying that, the story arc is fantastic, combining steampunk with supernatural, and the setting is captivating. The characters are diverse and intriguing and the dialogue, and there is a lot of it, felt really natural. I thoroughly enjoyed this novel, and I can't wait to dive into Volume 2.
The final graphic novel on my list is I Hate Fairyland Volume 2: Fluff my Life by Skottie Young. I adored Volume 1 of this series, and wrote a full review of it here. Like Volume 1, Volume 2 is stunning to look at, is chaotic and funny, completely random, and had me laughing out loud. But I must admit it wasn't nearly as good as V1 for me. Not even close. In saying that, it wasn't a bad novel at all, I think I just loved the first one so much it made it a hard act to follow. My biggest gripe with it though was the ending. It just ended abruptly. I turned the page, went "huh, that's it?" and felt disappointed. It sets V3 up nicely, but it was a little too abrupt for me.
So that's what I read in the crazy month of December! I predict January may also be a bit of a slow month, purely because the two books I'm currently reading are both 800 pages long! Why do I do this to myself????
Save
Save