After an incredibly busy and stressful semester at uni, November was, at first, a time of unbelievable stress, and then sudden and total freedom once I finished for the year. As a result, I sorta went on overdrive with my reading. Reading was my coping mechanism for the first half of the month when I was working on my final assignments, and then it was my way of celebrating my newfound freedom. As a result, I read a total of 7 novels, 4 graphic novels, and one manga, and I'm still sort of in shock about that. So we'll get right to it, here's what I read.
Novels:
At the beginning of the month, I finished off the Miss Peregrine series with Library of Souls by Ransom Riggs. Whilst I loved the originality of this series, I did have a few problems with it, my biggest of which being the lack of depth seen in the characters. I didn't feel connected to anyone … at all. But the story is fun, fast-paced (apart from the first book) and is definitely unlike anything I've read before.
Next I read The Handmaid's Tale by Margaret Atwood which has been sitting unread on my shelf for longer than I'm proud of. I'm so glad I finally got around to reading it! Set in a dystopian future, the story follows Offred, a "handmaiden" whose only job is to reproduce … or die. What I love about this book is that it's a dystopia, but the focus is not on overthrowing or "fixing" the issues within the society. The focus is on Offred just trying to get by in a world that sucks, as well as providing little flashbacks to suggest how the world got to this state in the first place. It's a highly fascinating, extremely well written book.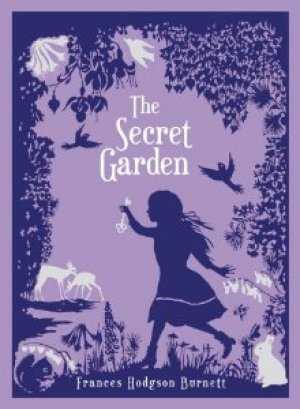 I needed to read something much lighter after The Handmaid's Tale, so I picked up another book that has been sitting on my shelf for a few years, and that was The Secret Garden by Francis Hodgson Burnett. This classic story is simply captivating. It follows young Mary, a selfish, love depraved child who is sent to live with her uncle in Yorkshire. Here she discovers a secret garden which, with the additions of a few friends, has a profound effect on Mary's outlook on life. This story is about friendship, personal growth, and is wonderfully charming. Though technically a kid's book, I think it's suitable for readers of all ages, both kids and adults.
Okay so I picked this book up at a book sale for 50 cents because I liked the cover. I was super happy to discover I liked the story too! What a bargain! Dancing Jax by Robin Jarvis is a supernatural thriller about a small town that has, in the wake of a horrific tragedy, found solace in a strange book called Dancing Jacks. Soon, everyone is reading it, but no one can put it down and it soon becomes clear to sci-fi obsessed  Martin and his step-son that there is something sinister going on. This book had me hooked in the first few pages and I found myself determined to work out what was going on with this strange book. I found that it did drag a little towards the end, but it was still a very enjoyable read. It's also a translated book (from German I think?) and sometimes I did get a bit confused by odd sentence structures or slang (there was a lot of English slang I didn't get).
The next two books I read I am going to talk about together as they are a part of the same duology. I've mentioned both books already a few times this month, and they are Alice and The Red Queen by Christina Henry. Let me start off by pointing out how much I loved this series! So good! Alice is a dark re-telling of Alice in Wonderland and it is awesome! It starts in a mental hospital where Alice cannot remember how she got there, only that it involved a highly distressing encounter with a man called The Rabbit. She and her cell neighbour, Hatcher, escape during a sudden fire and must navigate their way through the city, and Alice's nightmares, as they seek to eliminate a terrifying beast that has been unleashed. These novels are dark, brutal, horrifying, yet absolutely stunning. There are so many references and homages made to the original books which were so enjoyable to read. I definitely preferred Alice out of the two books as the "end goal" was clearer from the beginning. But both books are incredible reads. Warning though, there is some seriously dark and disturbing stuff that happens in these books.
Once again needing a light-hearted break, I next read Wilt by Tom Sharpe. The story follows Henry, an unlikable fellow married to an unlikable woman. After a nasty party held by his wife's new friends, Wilt finds himself in some ridiculous and embarrassing situations. The humour is highly slapstick and over the top. This book started out being really funny and entertaining, but to be honest I got bored halfway through and I felt that it seriously dragged. The main "event" that takes the focus of the rest of the book didn't happen until halfway through, so there was a lot of unnecessary build up. The ending especially was really stretched and could have ended 100 pages earlier if there hadn't been so much buildup. In saying that, I still liked the story overall, I just felt the construction could have been a little smoother.
Graphic Novels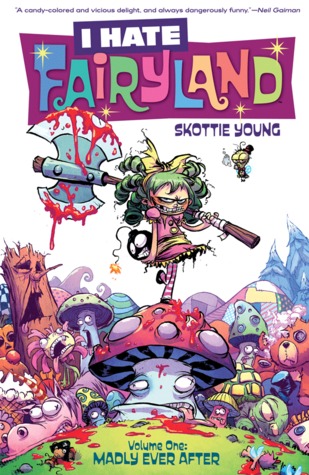 The first graphic novel I read was I Hate Fairyland by Scottie Young. I won't talk much about it here, aside from mention the fact that it is amazing, as I wrote a full review here. But quickly: it's funny, it's violent, the artwork is incredible to look at, and the next volume is out very soon and I cannot wait!
The next graphic I read was Rat Queens Volume 3 by Kurtis J Wiebe! This is one of my favourite graphic novel series, and this volume was just as good as the previous ones. The series follows an all female, kick-ass adventuring group who get up to all sorts of shenanigans, some which are not strictly legal. The first volume is still my favourite, but they're all hilarious. Volume 3 is a lot more serious than Volumes 1 & 2, which I liked a lot. We're slowly starting to learn more about the main characters in a way that isn't too slow, but also isn't revealing too much at once. Oh, and I loved the new artist! I felt the facial expressions are much more vivid in this volume than the others ones.
Next I read Astonishing X-Men Volume 1 written by the awesome Joss Whedan, and illustrated by John Cassidy. This one is difficult to talk about as I feel like it was probably a good story, but I had no idea what was going on due to the ridiculous amount of "assumed knowledge" you have of the Marvel universe. I really struggle with most Marvel comics for this reason, it's so hard to dive into! This volume kept talking about previous events from other series that I had no clue about. But anyway, this story follows Cyclops and Emma Frost as they re-form the X-men. But, as always, there's a complication when some new research reveals something interesting about the mutant gene. So what I understood of the story was great, but there were too many unknowns for me which really hindered my enjoyment. The illustrations are stunning at least!
I really took my time reading the next graphic novel as it is simply stunning. Mouse Guard: Legends of the Guard is a collaboration between a whole bunch of different authors and artists. It remind me a lot of Chaucer's Canterbury Tales as it's set in an inn where several mice attempt to tell the best story in order to have their bar tabs wavered. I adored the different stories in this volume and appreciated how varied they were as well. Some were funny, some were sad, some were plain brutal, but all of them were gorgeously illustrated. I could have read this in a day, but I limited myself to just one or two stories a day as I just wanted it to last! I think at some point I'll grab a copy of the first volume of the original series (which Legends is standalone to) and give that a try, as I adore the concept of the guard itself: soldier mice who defend their home against larger, hungrier animals and other threats.
Manga
Biomega: Volume 1 by Tsutomu Nihei (writer), and John Werry (Translator), is the first and so far only manga that I have read. I adore anime, so I thought I'd give it a go. It's set in the future after a horrific virus has turned the majority of the population into zombie-like "drones." It follows Zoichi as he searches for a young girl who has the power to transmute the virus, and may be key to humanities survival. Whilst I really liked the illustrations, the story didn't really grip me, but I suspect it's one where you have to read the first few volumes to really grasp it due to the slow pace. But I think it could be great after a volume or two once the story has gained some momentum. I have volume 2 already so I will let you all know once I've read it! I hope it picks up, because I adore the illustrations! They're super dark, charcoal-like sketches with incredible shading and detail. I spent a lot of time admiring them!
Well that's it folks, my ridiculous November wrap-up. December will be interesting as it's a very busy time of year and I plan to lose my life to Final Fantasy XV …
Save
Save
Save
Save
Save