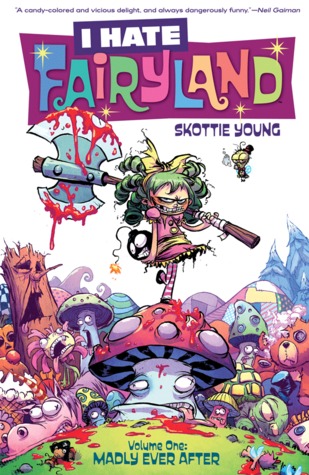 Funny, chaotic, gorgeously illustrated and excessively violent, I Hate Fairyland: Madly Ever After by Scottie Young is a graphic novel that had me cackling in joy … yes, cackling. Read on for a spoiler-free review.
This outrageous story follows Gertrude, a young girl who has been sucked down a hole only to find herself in a beautiful world known as Fairyland. This land is full of whimsical and cute characters, is bright and colourful, and oh so sugary sweet. Naturally, Gertrude wants out. Only problem is, she's now been trying to get home for years, is now an adult still trapped in her child body, and has since developed a nasty streak and a taste for violence. But, she's still hell bent on getting out no matter what. The story is fast-paced, chaotic, and at some times silly, but it absolutely works. If you're a fan of over-the-top adult cartoons like Rick and Morty or Adventure Time, I think this is a novel you'll appreciate.
The characters in this graphic novel are hilarious. We meet a wide variety of characters, some of whom are people, some are plants or animals, and some are astral bodies. Whilst most left me laughing, they don't have a huge amount of depth to them: the main characters have their goal and that's it. But it's important to note that this is only the first volume, so there's still time for more character development.
The illustrations in this novel are spectacular, probably one of my favourites that I've encountered. Scottie Young has done the illustrations himself, and Jean-François Beaulieu is the colourist. The novel is simply gorgeous. It consists of sugary sweet, bubblegum, almost sickly colours which are stunning to look at. This contrasts just beautifully with the fact that most of the images feature blood and gore one way or another … but somehow it's still beautiful. That is a skill unto itself. There are some images without violence of course, and these are just incredible to look at.
Gorgeous, funny, violent and over the top, I Hate Fairyland: Madly Ever After is a perfect choice for those looking for a laugh and nothing too serious. Volume 2: Fluff My Life comes out next month and I absolutely cannot wait to dive back into this stunning, violent world.