So I went into the store with the intention of buying only one graphic novel … next minute I have a very light wallet and 4 stunning graphic novels! I should probably feel guilty … but I really don't. I am very much looking forward to reading these, but probably won't get around to them until next month. I have just finished reading the incredible Alice by Christina Henry and have moved onto the sequel, Red Queen (there is a spoiler-free review on the way!), both of which are very dark and disturbing stories. I'm saving the graphic novels for after I've completed this series, as I'm sure I'll be in the mood for something easy, light and humorous. So without further ado, let me introduce you:
First is Lady Mechanika by Joe Benítez, which I can honestly say I know next to nothing about, other than the fact that it is steampunk. I haven't read much steampunk before but know it's quite a popular genre, so I'm pretty keen to give it a try. I did have a quick look through the novel and the illustrations are stunning!
Okay so this is the only novel I had intended to get that day before all of the other ones jumped off of their shelves into my arms (what was I meant to do?). Sex Criminals by Matt Fraction (writer) and Chip Zdarsky (artist) sounds absolutely hilarious. The basic idea is that the main characters share a very strange ability: time stops whenever they have sex. So, naturally, they rob a bank. The story sounds so ridiculously funny, I couldn't resist. This will probably be the novel I read first after finishing Red Queen. But then again, I may not be able to resist the temptation to read it now.
Next we have Saga: Volume 1 by Brian K. Vaughan (Writer) and Fiona Staples (Artist). I have heard so many good things about this series, but I actually don't know much about it. All I know is that it's science fiction with aliens, has some pretty explicit illustrations (nudity), and has a Romeo and Juliette feel to the story. I know of a lot of people who don't usually read graphic novels who swear by this series, so I think that's a good sign. As always with hyped up series, I try to go into it with zero expectations, because there is nothing more disappointing than something not living up to your expectations! Despite that risk, I figured it's about time I got on the Saga bandwagon.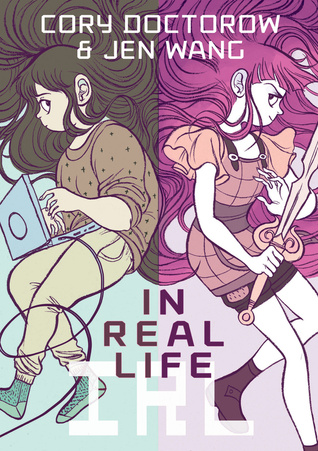 And last but not least is In Real Life by Cory Doctorow (writer) and Jen Wang (artist). Being an avid girl gamer myself, the concept of this novel sounds awesome! Our main character plays a multiplayer online game and meets a poor Chinese kid who is a "gold-farmer," who is basically someone who collects valuable in-game objects and illegally sells them to real-life people for real-life money. I think that's right, I don't play mmorpgs myself, so I'm not entirely sure. So the protagonist is caught between a rock and a hard place as this activity is illegal, but the kid is poor and legitimately needs the money. So I am highly curious to see what happens. Plus the illustrations look adorable.
So there you have it! I'm sure I will get around to reading these soon. Stay tuned for my monthly wrap-up as November has been a big one! Seriously … so many books.
Save
Save
Save