Today marks the first of (hopefully) many Top 5 Wednesday posts. You can find the questions and Goodreads group here. This week's topic is the top 5 books I want to re-read. As someone who re-reads books a lot, I found this rather difficult as I generally want to re-read everything, so it was hard limiting this list to only 5 books! So without further ado, here are 5 books, out of many, that I've only read once and wish to read again. They are in no particular order:
Wolf Brother by Michelle Paver is the first in the Chronicles of Ancient Darkness series. I read this book when it first came out in 2005, as well as the first three books. There are a total of six books in the series and for some bizarre reason, I never got around to reading the last 3, even though I loved the first 3! The book is set pre-history and follows Torak and his 3 month old wolf cub who find themselves alone in the dangerous wilderness with an evil, demonically possessed bear after them. I can't remember too much about the series, except that I just adored it. So I want to re-read this book and eventually the others as well.
The Dark Horse by Marcus Sedgwick is another book I read when I was a kid, and has survived many a book cull, despite the fact that I can't really remember much about it, apart from the fact that I loved it. It's a dark fantasy story and follows a young boy Sig, who is part of a coastal tribe in a cold, harsh environment. The tribe rescue a young, wild girl who is not all as she seems. That is about the extent of my memory with this book. I really need to read it again!
"Last night I dreamt I went to Manderley again …"
I read Rebecca by Daphne du Maurier this year for a subject at university. It went stampeding into my favourites shelf as I absolutely adored it! I want to re-read it again because it's the kind of book I would ideally sit down and read in one or two sittings completely uninterrupted. My first time reading Rebecca was incredibly disjointed as I was balancing reading this book with another university book, one I then had to write an essay on. I went days without reading a single page of Rebecca as I had to prioritise my time with the other one. I want to re-read it because I loved it so much and would appreciate reading it uninterrupted and simply for enjoyment, not university studies.
I first read The Curious Incident of the Dog in the Night-Time by Mark Haddon (gosh it has a long name) around five years ago now. Like Rebecca, it went straight into my favourites shelf because I had never read anything like it. It's about fifteen-year old Christopher who has either autism or Asperger's, I forget which sorry, and his mission to discover what happened to his neighbour's pet dog, who was found dead one morning. What makes this book interesting is the way it is written: like Christopher himself is writing the book. There are little quirks in this book suited to Christopher's character, including diagram inserts and other graphics, as well as numbering the chapters only in prime numbers, just because Christopher likes prime numbers. I want to read this book again now that I've studied english literature at university and have a better grasp of story and novel structure. I feel I would be able to appreciate the techniques used in the structure of this book a lot more than I did when I first read it.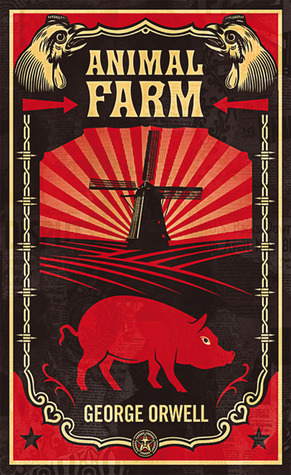 Last, but not least, is Animal Farm by George Orwell, which I read when I was a teenager and had absolutely no idea about the deeper meaning behind it. The story is set on a farm where the animals overthrow their human masters and live in a new Utopia. But, like most utopias in fiction, things go awry as the societal structure begins to break down. I did love it when I first read it, but at the time I didn't really know much about the underlying satirical intention behind it, though my teacher did explain it to the class. I just thought it was a cool story about dictator pigs. Of course, it's a lot deeper than that and is really a satire on Communism. I want to re-read it because the meaning went well and truly over my head when I first read it, so I'd get a lot more from it now.
There you have it, 5 books I want to re-read. Hopefully I'll get around to them soon!
Save
Save
Save
Save
Save
Save