Woohoo my graphics finally arrived! I have 4 very different and diverse graphics here and cannot wait to read them! I adore graphic novels. They're a really cool and easy way to experience stories. There are so many different styles of artwork, and you can get graphics in almost all genres. They are quite a diverse medium. So without further ado, here's what I added to my collection …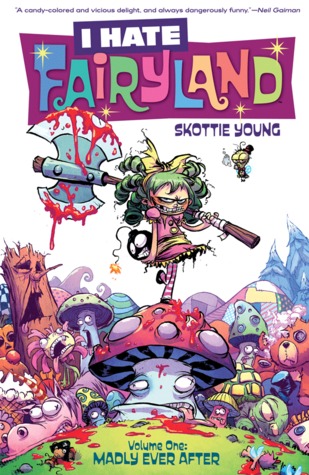 I Hate Fairyland by Scottie Young is colourful and quirky and excessively violent. I thought it sounded really cool and the illustrations are surprisingly beautiful (albeit gory). From what I understand, the story is along the lines of Alice in Wonderland: a girl finds herself pulled into another world, but the main character in this story most definitely does not want to be there and has a tendency for extreme violence. I'm so excited to read this!
Next up is Rat Queens Volume 3 by Kurtis J Weibe (author) and illustrated by Tamra Bonvillain and Tess Fowler. I adored the first two volumes in this series (you can see my thoughts on them in my October Wrap-Up post here) and am super excited to see what happens next. I noticed that this volume features different artists from the previous volumes, so that will be interesting to see. Hopefully they're just as eye catching!
Astonishing X-Men was actually ordered by my boyfriend, and I admittedly don't know much about it aside from the fact that it features X-Men. This one is written by Joss Whedon, one of my favourite writers (any Buffy fans out there?), and illustrated by John Cassaday. I know absolutely nothing about the storyline! But I think that'll be fun when I go to read it. I loved watching the X-Men cartoon as a kid, and I thoroughly enjoy most of the movies. This will be the first of the comics I've read, so hopefully I like it. I flicked through it quickly and I think the art looks awesome!
Last is the graphic novel I've been the most excited to read, and that's Mouse Guard: Legends of the Guard by a whole bunch of different authors and illustrators. The premise of this story reminds me a lot of Chaucer's Canterbury Tales: basically some mice go into an inn to spend the night and each end up sharing a story (that's my understanding without having actually read it). So each story is by a different author and/or illustrator. Apparently some are hilarious whilst others are heartbreaking, so I'm super excited to give this one a read. I think it's an awesome concept!
So there you have it! I expect to read all of these graphics soon as my university is almost finished for the year yay! I will have just under four months of summer holidays to spend reading and gaming. I'm so happy.
Save