October was a strange month for me. I was incredibly sick for the first half of the month and then extremely busy with uni in the second half (only one assignment to go!). I read a lot of graphic novels this month I think largely due to first being sick, and then being so busy with study. I find the visual element so refreshing when I've been reading stifling journal articles all day!
So without further ado, here are my thoughts on what I read this month:
First up I read The Historian by Elizabeth Kostova. It's a historic fiction focusing around the Dracula legend, and the search to determine whether or not he's real. I loved the concept behind this book, especially how the majority of the narrative is delivered through recounts or letter, an homage to Bram Stoker's Dracula, which is told through a series of letters.
The story is unique and highly original, but I did find it to drag in some parts. I also found most of the characters to be rather bland. But the story itself is enjoyable and I would love to see a movie or tv series adaptation of this book!
Next up is Bound for Eden by Tess LeSue. This is a romance novel (a genre I'm not well read in) and you can read Riley's spoiler-free review of it here. As there is already a review, I won't go into too much detail. But I enjoyed this book, especially given it was out of my comfort zone being in a genre I don't usually read! But hey, lesson learned: try new things!
Insert the first graphic novel … Rat Queens, written by Kurtis J Weibe and illustrated by Roc Upchurch. I read both volumes 1 & 2 and the shop has just received my order of volume 3 yay! So I shall be reading that hopefully this weekend!
This series is freaking amazing. It's about an all female, kick-ass adventuring group who get up to all sorts of shenanigans, some which are not strictly legal. I was intrigued, in hysterics, in (figurative) tears, and I was amazed by how fun, yet involved this story is. Once I've read volume 3 I plan to write a spoiler-free review of the series as a whole.
The next graphic novel I read was The Cloud, story by K. I. Zacholoulos and illustrations by Vincenzo Balzano. This book I literally picked off of the shelf because the artwork looked so beautiful. I was not disappointed. The story itself is quite simplistic, there's not a huge amount of dialogue in it, it's mostly focused around the illustrations. But the basic premise is that a boy goes on a grand quest to find his father's "wish" that was stolen from him. It's quite abstract and surreal, and I suspect I'll be re-reading it soon to pick up on any details I may have missed. But I definitely enjoyed it, but mostly for the gorgeous illustrations.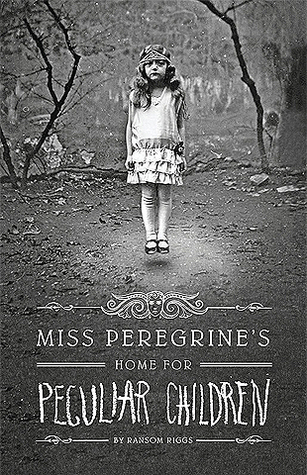 Okay, so Miss Peregrine's by Ransom Riggs was sitting in my tbr list since it was published, I just never got around to it. But then with the hype surrounding the movie, I thought "why not" and gave it a go. I did enjoy Miss Peregrine's, but thought it wasn't quite on par with the hype surrounding it. BUT I'm currently halfway through the third novel and am loving the series as a whole. I haven't seen the movie, so no comment there, but this book was not what I was expecting. I was expecting a Harry Potter or Xavier's School for Gifted Youngsters sort of story … but it's not … and I like that! There was a lot of build up in this book, a little too much for me especially in the middle, but once it got going the series is really enjoyable and unique. It's dark, it's gritty, it's peculiar (see what I did there?) and full of creepy photos… so fabulously creepy.
Next is a whopper of a graphic novel: The League of Extraordinary Gentlemen by Alan Moore and illustrated by Kevin O'Neill. This graphic is dark, and I mean DARK. Do not use the movie as a benchmark for this novel as there are several heavy themes and confronting events not put in the movie (and probably for good reason). The story is fantastic though, and the illustrations are super colourful. It follows a group of literary characters who have been called together to stop an evil plot. It's very interesting to see Moore's depiction of these well-known characters and how they interact together. There are a lot of literary references, not all of which I immediately recognised, but I think the book is still enjoyable even if you're not a reader of classics.
And continuing with the graphic novels (this was the time of month when heaps of assignments were due!), the next one read was V for Vendetta, also by Alan Moore, with illustrations by David Lloyd. V has to be one of my favourite stories ever. I loved the movie but had never read the graphic. So, naturally, I had to change that. Oh my gosh I love this novel. The story is incredible. It's heartbreaking, it's gripping, it's powerful. It's a dystopian story set in a totalitarian England, post a devastating war. Codename V, our anti-hero, does not approve of the oppression of the people, or of the censorship of art, film, and literature. So, he takes things into his own, radical hands. The art style is admittedly not my favourite. The colour scheme is mostly pastel shades, which I feel don't quite fit with the themes. But apart from that, V has been added to my favourites list!
And continuing with the dystopian theme … I actually bought Fahrenheit 451 because it's been on my tbr for a long time, and I forgot to bring my book with me when I went to the hair dressers. So instead of staring at myself in the mirror for 45 minutes while the dye set, I got hooked by this book. I went home and finished it that evening. It was really well written and thought provoking and is one I highly recommend for lovers of dystopian fiction. The main character, Guy Montag, is a "fireman" and his job is to burn books, which in this world, are considered to be dangerous. It felt quite apt that I read this after reading V for Vendetta! Fahrenheit is an interesting read about censorship and the western world's obsession with media and conformity.
So there you have it, those are the books I read this month 🙂 If I had to pick a favourite, it would most definitely be V for Vendetta, though the first volume of Rat Queens would be very close.
I will not be doing a To Be Read for November list because, to be honest, I'm really bad at sticking to TBR lists. I always think "oh I'll read that book next" and then wind up reading something completely different. So we'll see what happens … though I am in quite a dystopia mood now and I do have some unread copies of  Margaret Atwood and George Orwell's on the shelf …
Save
Save
Save
Save
Save
Save
Save
Save
Save
Save
Save
Save